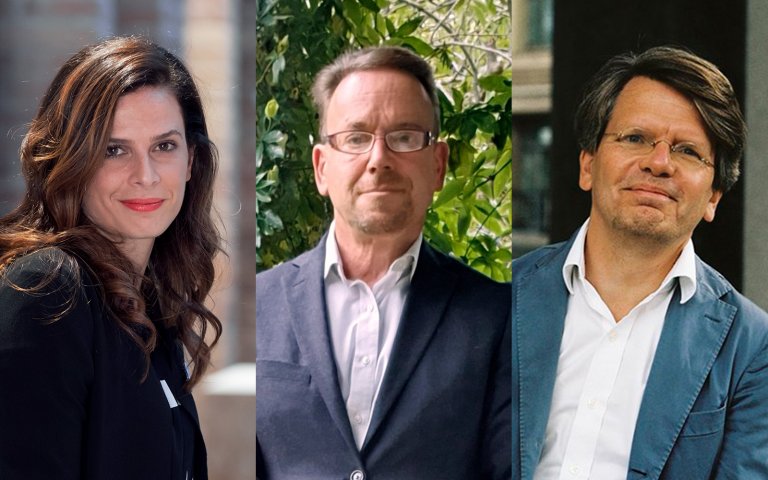 International & Interdisciplinary – THE NEW INSTITUTE Forms an Exciting Advisory Team
THE NEW INSTITUTE is expanding: Francesca Bria, President of the Italian Innovation Fund, Geoff Mulgan, the former head of the UK innovation agency Nesta, and Christoph Möllers, law professor at Humboldt-Universität zu Berlin, support THE NEW INSTITUTE. As Senior Advisors, they will guide the mission of this newly founded platform for societal change, initiated by the Hamburg-based entrepreneur and philanthropist Erck Rickmers. 
Francesca Bria is one of Europe's leading experts in digital policy. From 2016 to 2020, she was Chief Technology Officer of the City of Barcelona and with EU support developed Decode, a project aimed at creating more participatory tools for city residents and a more democratic usage of public digital data. Bria will continue her work in Hamburg within the framework of THE NEW INSTITUTE program "The New Hanse". The goal will be to find a model for a more just and sustainable democracy on a local level. Asked about her interest in THE NEW INSTITUTE, Bria says: "We have the unique opportunity to advance societal change by showing how a green, citizen-centered digital city could look like."
Geoff Mulgan, Professor for Public Policy at the University College London, equally described THE NEW INSTITUTE as a place to enable change: "We need these platforms that combine different elements and ways of thinking. Specifically, three things are important: A radical imagination of what our societies could look like in 20 years. The ability to experiment in the present. And the possibility to translate insight into action, through partnerships with cities, governments, political parties and other actors." Mulgan's work at THE NEW INSTITUTE will focus on questions of social innovation, which is also the subject of his book "Social Innovation. How Societies Find the Power to Change" (2019). 
Christoph Möllers, who has been Professor of Public Law and Jurisprudence at Humboldt-Universität zu Berlin since 2009, combines the reflection about the law and politics and regularly translates his academic work into practical proposals. He represented the Bundestag, Bundesrat and the German federal government in court and is a vocal voice in political discussion about, for example, the controversy around data retention or the prohibition procedure concerning the right-wing NPD party. At THE NEW INSTITUTE, Möllers will contribute to conceiving the program "The Future of Democracy".