At THE NEW INSTITUTE, we build on academic rigour and real impact.
Our fellowship programmes address the most urgent questions of our time at the intersection of ecology, economy, democracy and the human condition, framed as a series of fundamental questions. We aim to analyze what needs acting upon. And act upon analysis.
Based on foundational research and practical experimentation, the programmes are collaborative, solution-oriented and flexible in time and structure, ranging from short-term to year-long fellowships or longer. Up to 35 fellows will engage with each other in overlapping programmes, forming teams and creating lasting networks.
As a platform for change, we address a global community of changemakers and invite key actors to inform and inspire our work. We connect, facilitate, and see activists, artists, entrepreneurs, policy makers, and journalists as important agents for the necessary transformation of our societies.
Become a fellow and join us on our mission to build a platform for change.
Our fellowships are flexible in time and structure, ranging from short-term to year-long fellowships or longer and tied to the programmes of THE NEW INSTITUTE.
We welcome candidates with established track records in creating change, as well as future changemakers. What matters most to us is their eagerness to contribute to THE NEW INSTITUTE's mission.
Whom are we looking for?

We invite fellowship applications from all areas, academia, the arts, activists, media, entrepreneurs, policy makers to form diverse and solution-oriented project groups. We are looking for candidates who have an ability to bring transformative ideas to the Institute's work and its collaborative ways of working. We seek those who are willing to engage across discipline and sector to advance knowledge and to turn it into practical solutions.
What do we offer and what do we expect?

Fellowships at THE NEW INSTITUTE include accommodation at the Warburg Ensemble, common meals, funds for research and financial compensation intended to cover living costs during the stay in Hamburg. Fellows also receive access to offices, libraries, collaborative working environments, as well as to other resources, such as information technology and administrative services. We expect fellows to remain in residence at THE NEW INSTITUTE throughout the duration of their fellowships and to participate in meetings and events and engage in other activities of THE NEW INSTITUTE.
How to apply

Fellows are selected by a team of experts based at THE NEW INSTITUTE together with established external advisors. Calls for applications for different thematic fellowship programmes will be published on a rolling basis throughout the year. We are currently accepting applications for the programme 'The Future of Democracy'. We are inviting applications from researchers as well as from practitioners from politics and the media, artists, technologists, and entrepreneurs. To stay informed about the upcoming calls, sign up for our newsletter.
Questions are at the heart of how we work.
Care, courage, creativity and commitment are our core values.
They steer our cooperative and collaborative approach to getting things done. We understand the power and potential of bringing people together and we believe in conviviality and hospitality.
---
How do we open up new horizons?
How do we create a shared meaning of where we want to go?
How do we make sure that all voices are heard, that all stakeholders are at the table?
How do we shape a new form and understanding of leadership?
How do we make sure that new ideas will foster new initiatives?
How do we close the gap between insight and action?
How does change happen?
---
Being new refers to our mindset and our approach. It means being responsive, reflexive, responsible and respectful – to embrace difference and complexity as fundamental truths in our changing world. It means being an open network and a porous platform, not a closed-door institution. It means being comfortable with the uncomfortable reality of uncertainty and the open-endedness of questioning.
We want to create an institute that supports and enables our ambition. Our goal is to reflect, retreat, reconvene; to connect our philosophy with our practice to inspire projects that drive meaningful change.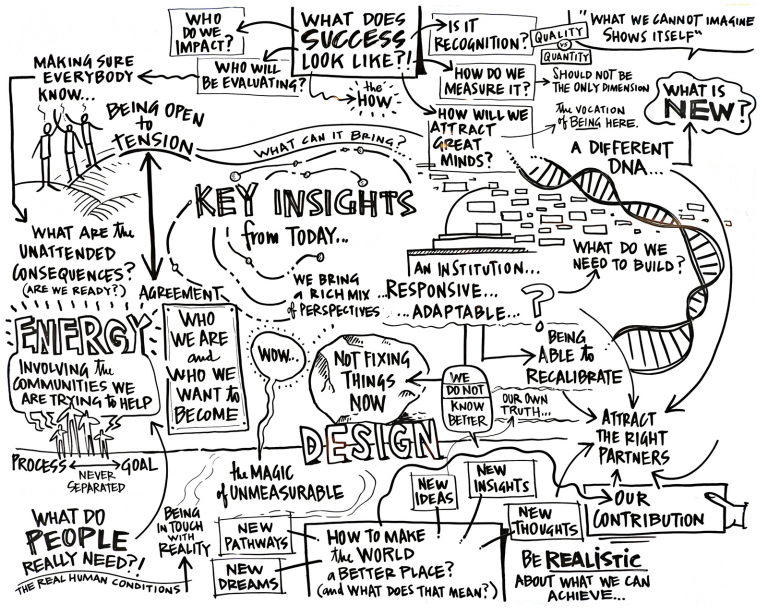 We are connected to four research centres through the Humanities and Social Change International Foundation,
started by Erck Rickmers in 2016 to understand the nature of our current societal challenges in his quest to promote social change. THE NEW INSTITUTE builds on this work and experience.
The Humanities and Social Change International Foundation established research funding for centres at the University of California, Santa Barbara; Ca 'Foscari University, Venice; University of Cambridge and Humboldt-Universität, Berlin. In 2020, the foundation changed its name and became THE NEW INSTITUTE Foundation. Our core interests are mirrored by the research programs of the four centres.