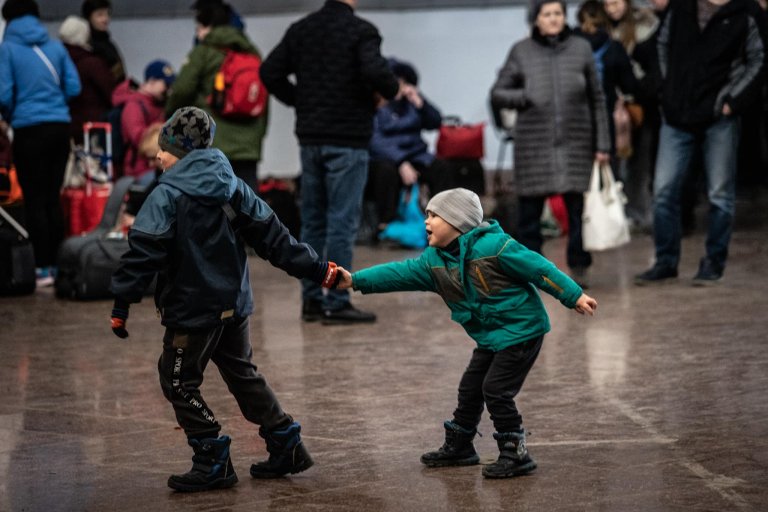 report
Janine von Wolfersdorff on Helping People.
Our fellow Janine von Wolfersdorff started the initiative EvacuAid Kyiv in cooperation with the Csilla von Boeselager Stiftung Osteuropahilfe. The goal is to help Ukrainian refugees who would not be able to flee the war-torn country, focusing on the areas of Kyiv and Mariupol, organizing busses to bring food and medical equipment into the conflict area and transport women and children, some of them handicapped, mainly to Germany and Austria where they find shelter or get medical treatment. Currently she is again on her way to Kyiv. You can support this work by donating to: Csilla von Boeselager Stiftung Osteuropahilfe, Sparkasse Arnsberg-Sundern, IBAN: DE41 4665 0005 0000 0333 32, EvacuAid Kyiv; and writing to EvacuAid@boeselager-osteuropahilfe.de to offer free initial accommodation places in municipalities.
---
Janine von Wolfersdorff on Helping People.
"Departure Wednesday 4:00 possible, if we have solved the canister problem by then, that is unfortunately very critical!!!" said Ludwig, the bus operator. "My people are already phoning all the suppliers, but we can't find 70 canisters in Vienna within hours".
"Janine, unfortunately we don't have any painkillers in stock at the moment, and also the disinfectant we have in stock is only suitable for Covid19".
"Do you still remember to send us the details of the doctor who countersigns the painkillers for the city of Kyiv for the export papers?"
"Do you seriously want noodles for Kyiv and oatmeal?! Not canned soup? We don't have nappies. I need a list from you within 30 minutes of exactly what food you need and who will be here to pick it up by 3pm tomorrow."
And I did not reach Michel - the friend I had asked to call birth centers, rehabilitation centers and hospitals in Kyiv to ask about injured, autistic or disabled children and pregnant women in Kyiv who would not or barely manage to flee the city and get to safety by themselves.
On March 10, in Kyiv, we delivered three coaches full of medicine and food in the morning and we started our first "boarding": 166 women and children.
It was Monday evening, 8 March.
It all started the Friday before, 4 March. I called a friend to ask him for help with the escape logistics of West Ukrainian families from the Hungarian border.
Just a few days before, I had made an insane effort to help just one family find a new home on a sustainable pony farm in Fleckeby. Her name was Natascha. She came from Transcarpathia with two little girls. In our perfect "logistics chain" - two Hungarian student friends picked her up on time at the Hungarian border, brought her to the Budapest-Vienna train, where she was to be picked up around midnight by another friend, to travel by train to Berlin the next morning, and then on to the pony farm in northern Germany - there were unmanageable gaps.
Natasha did not get off the train in Vienna, but hours later in early morning in Salzburg; I called the police - and we finally found her at the Freilassing police station, where she was supposed to wait until she was picked up individually by friends of a trade union network. But Natasha instead went with the flow of all the people to the station in Freilassing. Another refugee, whom she had asked for help in communicating with us, finally held her so that we could talk to her. She was extremely restless, afraid. However, we finally managed to bring her to the pony farm in Fleckeby. After these days I was happy everything went well at the end, but I also thought: with the same effort I could probably have saved hundreds of people.
Tuesday morning, 9 March
In the meantime, it was clear that the Michel, the friend from Ukraine, had not drawn up any evacuation lists, had not made any phone calls. You want real lists?
Yes, I wanted lists. In the meantime, we had contacted Vitali Klitschko and the city of Kyiv. I wrote a WhatsApp to the city's vice-president saying that I wasn't sure if his team would help with the evacuation lists quickly enough. We had priority boarding: pregnant women over five months, women with small children under five, women with disabled, autistic or injured children, elderly people.
So we started to draw up evacuation lists in cooperation with the city of Kyiv and the city's social department. Meanwhile, at Caritas in Vienna, our bus operators picked up six pallets of food suitable for war (no pasta). The Ministry of Finance in Vienna tried to help with the canister issue - I ended up with a nice colleague in the department of mineral oil tax - "because it's somehow related". We managed to buy 70 canisters within a few hours. A pharmaceutical company donated painkillers; we prepared the papers for them. We put stickers on all five sides of the buses and marked them as a humanitarian action.
4:00 on Wednesday night we started towards Kyiv. I didn't sleep a wink.
Thursday, 10 March
Did everything work out with the old lady? I asked Natali early in the morning.
I had talked to Anya on the phone the night before. She lives in San Francisco and she was beside herself with worry about her mother, who is still in Kyiv. Can you please bring her out? She was sobbing. She had been praying, although she had never prayed before, and she had never gone to church. And now she had heard about our bus evacuations! I promised her to take care of her mother - Natalya - and wrote down Natalya's phone number so that Natali could call her directly the next morning. God bless you!!! Anya exclaimed.
No - she doesn't want to be evacuated, wrote Natali. I called Anya in San Francisco. She said her mother wasn't ready, she didn't believe it. She doesn't know you, she thought it was a fake call. "Prepare your mum, talk with her," I told her. "We'll be back."
In Kyiv, we delivered three coaches full of medicine and food in the morning and we started our first "boarding": 166 women and children. One had a broken leg. Several were in wheelchairs. We had heavily pregnant women about to give birth on board, and autistic as well as disabled children. Two friends had assured me after telephone calls and research that there was a very high capacity as far as beds for our refugees in Vienna were concerned. I was given an address in Vienna, could hardly believe my luck, asked about it - but it shouldn't be a problem.
Around 4pm it turned out that the address was the Arrival Centre, which only had 30 emergency field beds. I started phoning; Ludwig, our Viennese bus operator, too - until we got confirmation that all our remaining 166 refugees in the buses were well accommodated. I am still grateful to Ilse from Caritas in Vienna for the warm-hearted reception of our children and families.
A friend sent me flowers and told of laughing children from our group in Vienna who were wheelchair racing in the corridors. One baby from the first tour has since been born in Munich. Our boys, the bus drivers, told of blessings, of hugs of the people in Kyiv. They want to go again.
And I began to surface - just briefly - from deep water. Realizing the sun outside, the spring. I felt like a whale gasping for air, except that this water is not my element.
The very next morning, I started planning the second tour, as the Russians tanks continued to move towards Kyiv.
---
Janine von Wolfersdorff is a fellow at THE NEW INSTITUTE. A tax advisor by profession, she is also an active member of the Advisory Board of OMFIF, The Official Monetary and Financial Institutions Forum, London/Berlin.