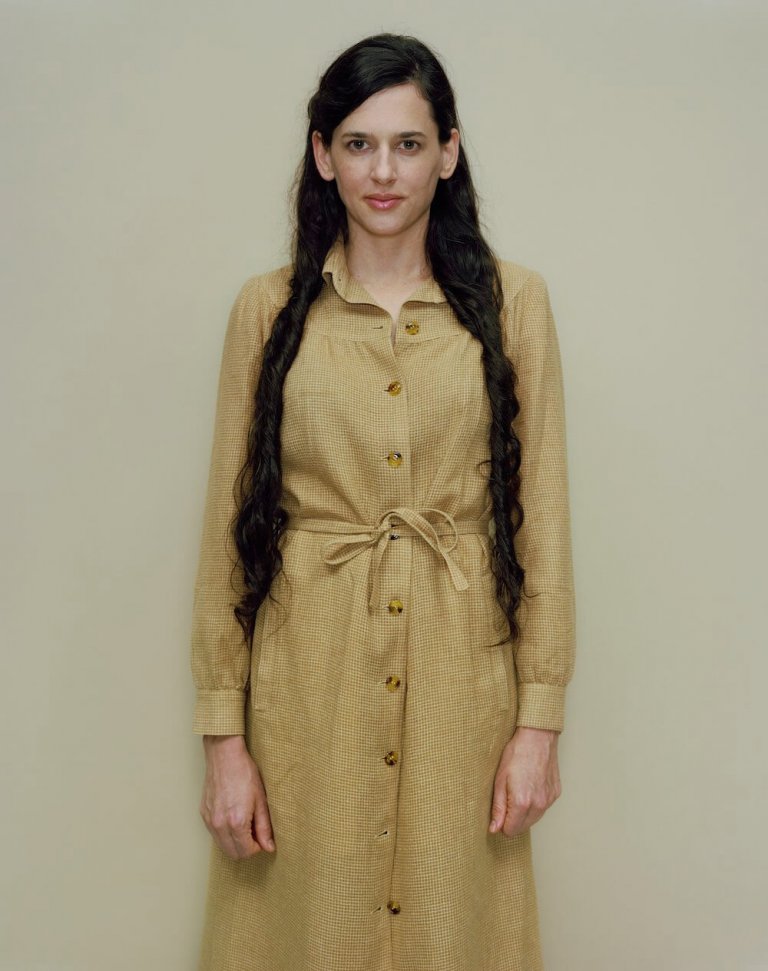 Taryn Simon and the Will of Capital
Taryn Simon, photo by: Rineke Dijkstra
Taryn Simon is a conceptual artist who works at the intersection of memory, identity, representation, history and storytelling, using photography, text, sculpture and performance to create or recreate a reality that all too often eludes us. She has a strong poetic vein and a clear political mind and attempts to chart the uneven territory of our present. "The Innocents" (2002) documents the stories of individuals who served time in prison for violent crimes they did not commit. In "An American Index of the Hidden and Unfamiliar" (2007), Simon compiles an inventory of what lies hidden and out-of-view within the borders of the United States.
The works she selected for our most February newsletter offer a reflection on the power dynamics, the representational logic and the lasting burden of the current financial system. They are taken from "Paperwork and the Will of Capital" (2015), which presents photographs of recreated floral centerpieces from the signings of political accords, contracts, treaties, and decrees. The signings that inform this work involve the countries present at the 1944 United Nations Monetary and Financial Conference, in Bretton Woods, New Hampshire, which addressed the globalization of economies after World War II, and lead to the establishment of the International Monetary Fund (IMF) and the World Bank.
Each photograph represents an "impossible bouquet"
The photographs have twin points of departure: archival photographs of official signings as well as George Sinclair's nineteenth century horticultural study of dried grass specimens, an experiment in survival and evolution cited by Charles Darwin in his groundbreaking research. For the recreations, the flowers present at each signing were identified from archival sources by a botanist. More than 4000 specimens were shipped to the artist's studio, sourced from the world's largest flower auction, in Aalsmeer, Netherlands, which receives and distributes approximately 20 million flowers per day. Each photograph represents an "impossible bouquet," a concept that emerged in Dutch still-life painting parallel to the country's seventeenth-century economic boom and its development of modern capitalism. An impossible bouquet is a man-made fantasy of flowers that could never bloom naturally in the same season and geographic location — a phenomenon which of course is now made possible by the global consumer market.
Taryn Simon's work has been shown, among other places, at MoMA PS1 (New York), Whitney Museum of American Art (New York), Neue Nationalgalerie (Berlin), Tate Modern (London), Fondation Louis Vuitton (Paris), Tel Aviv Museum of Art (Tel Aviv), Garage Museum of Contemporary Art (Moscow), at the Gwangju Biennale and the Venice Biennale.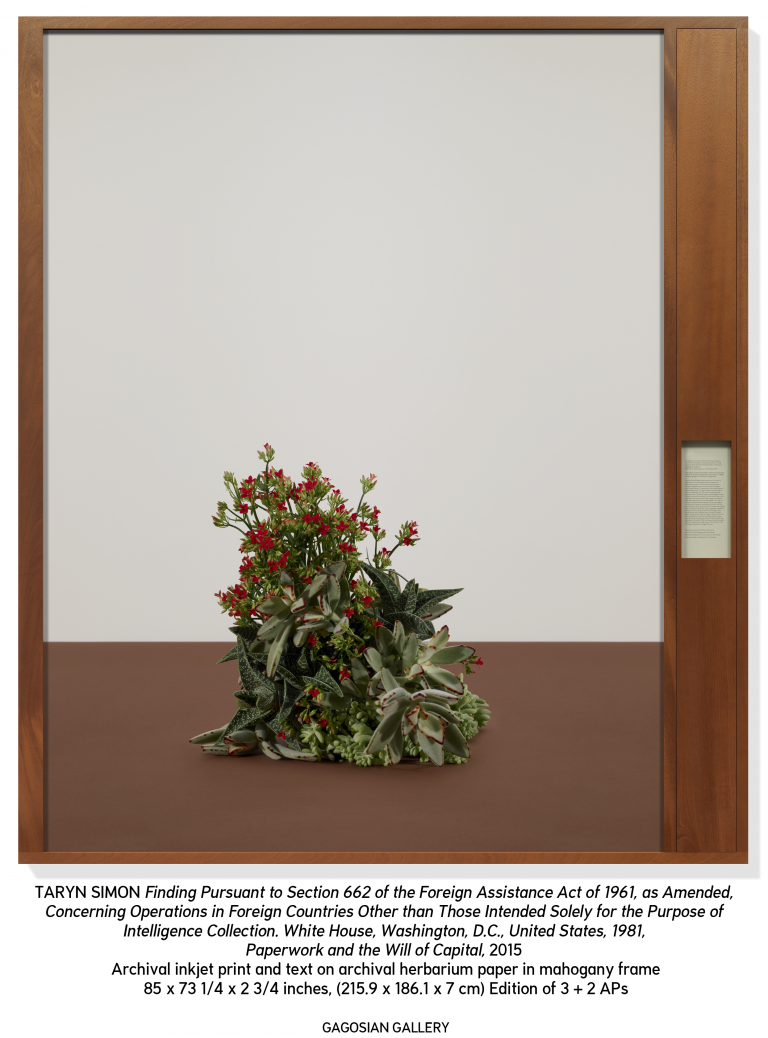 President Ronald Reagan reauthorized covert CIA action in Afghanistan to counter the spread of Soviet power and influence in the region. The CIA worked covertly with the Pakistani intelligence service (ISI) to arm and train Afghan rebel "freedom fighters" (mujahideen) in their rebellion against Soviet military action. CIA logistics officers sent thousands of .303 Lee-Enfield rifles, AK-47s, rocket-propelled grenade launchers, and CIA-produced Qurans in the languages of Soviet Islamic minorities to the Pakistani ISI, who funneled them to the mujahideen. The ISI also trained rebels to wage car and camel bomb attacks against Soviet-controlled Afghan cities. The U.S. Congress secretly allocated funding for CIA-directed Afghan covert action and weapons spending each fiscal year, reaching over USD 630 million in fiscal year 1987. This figure was matched dollar for dollar by Saudi Arabia, under an agreement negotiated between the Saudi royal family and President Reagan. Many young Saudis joined the Afghan rebels, including Osama bin Laden, who galvanized support among Arab volunteers. The U.S. had no official policy toward internal Afghan politics, despite warnings that by arming the rebels they were ultimately arming their enemy. On April 14, 1988, the Geneva Accords formalized the Soviet withdrawal from Afghanistan. The CIA station chief in Islamabad cabled back to Langley: "We won."
A. Kalanchoe tomentosa, Panda Plant, Netherlands
B. Aloe humilis, Dwarf Hedgehog Aloe, Netherlands
C. Kalanchoe blossfeldiana, Christmas Kalanchoe, Netherlands
D. Sedum pachyphyllum, Jelly Bean Plant, Netherlands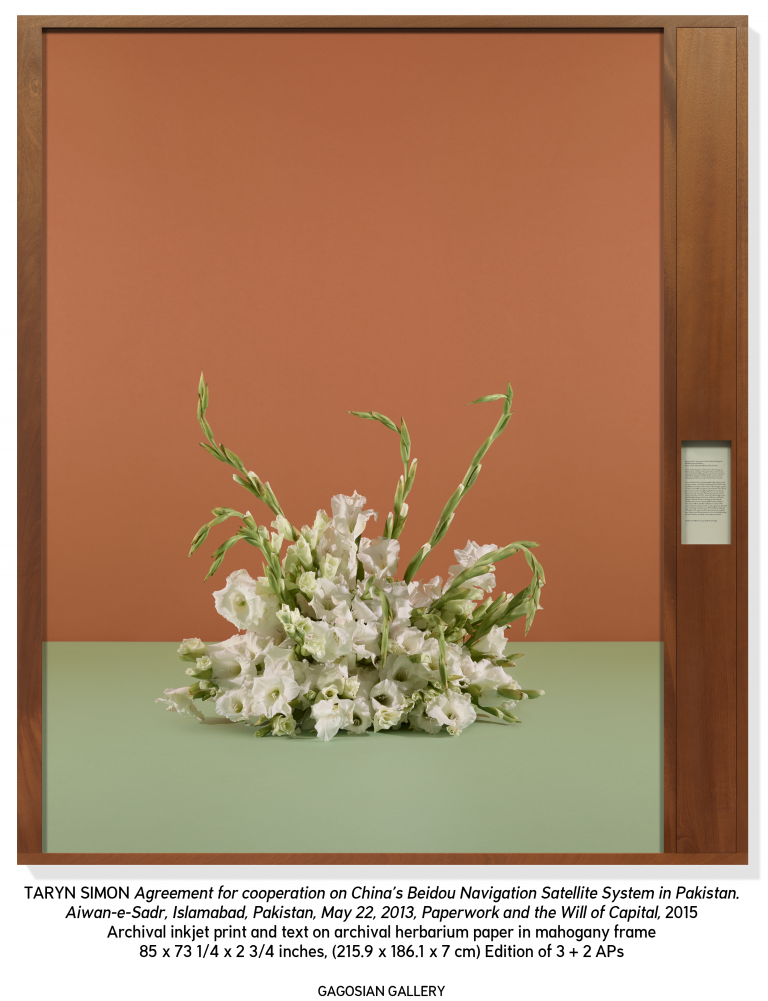 Concerned about the overwhelming global dependence on the U.S. government–run Global Positioning System (GPS), China and Pakistan cemented a deal to enhance the strategic capacity of China's own satellite navigation system, Beidou. The Chinese government considers strengthening Beidou to be critical to national security, as does the Pakistani government, both of which rely heavily on GPS for civilian and military applications. Establishing Beidou ground stations in Pakistan could bolster Pakistan's national defense technology by enhancing the reliability and accuracy of various guided weapons systems. China invests billions of dollars in Beidou to counter GPS's market dominance and protect the country against any potential U.S.-led strategic interruptions to GPS. Disabled or degraded GPS signals in the region would incapacitate precision-guided smart weapons and disrupt numerous sectors, including banking, law enforcement, power grids, and emergency response.
A. Gladiolus Grandiflorus Group, Gladiolus, Portugal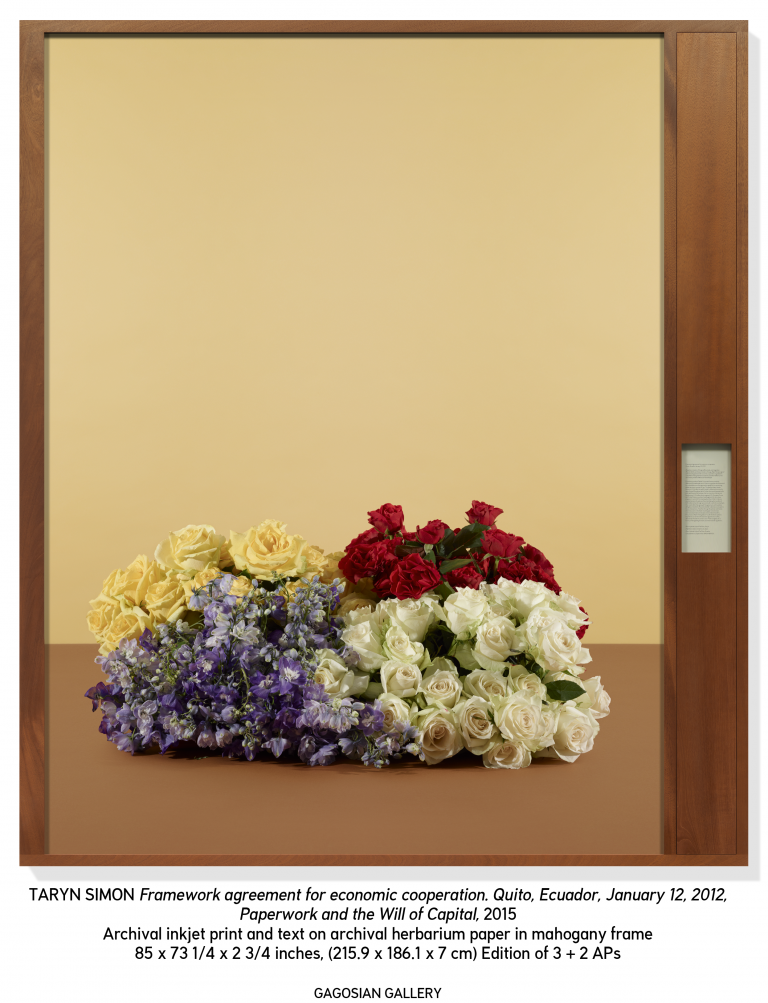 Ecuadorian president Rafael Correa and Iranian president Mahmoud Ahmadinejad met in Quito to negotiate the framework for a classified economic agreement capable of circumventing global sanctions imposed on Iran. The deal facilitates Iranian access to U.S. dollars through Ecuador's dollarized economy by way of a small Ecuadorian bank, Cofiec, that would operate as the principal financial link between the two countries. Iran cannot freely access U.S. dollars due to ongoing U.S., European Union, and United Nations sanctions levied against it for its nuclear program. A record of the meeting describes Cofiec's role as a conduit between Ecuador and Iran, facilitating the transfer of U.S. dollars to Iran through accounts held in a third-country bank. One month after the signing of the agreement, an Ecuadorian delegation traveled to Russia to establish a bank account open to Iranian transactions. Transfers through Ecuadorian and Iranian shared accounts in that bank would appear not as Iranian commercial activity but instead as internal bank transfers. This process of bank "triangulation" could therefore exploit a loophole to circumvent the sanctions against Iran. Cofiec, directed by President Correa's cousin Pedro Delgado, has a history of disregarding domestic and international regulations.
A. Rosa × hybrida, Hybrid Tea Rose, Kenya
B. Delphinium elatum, Delphinium, Spain
C. Rosa × hybrida, Hybrid Tea Rose, Kenya
D. Rosa × hybrida, Hybrid Tea Rose, Ecuador Chrysanthemum, Spider Mum (PROHIBITED)