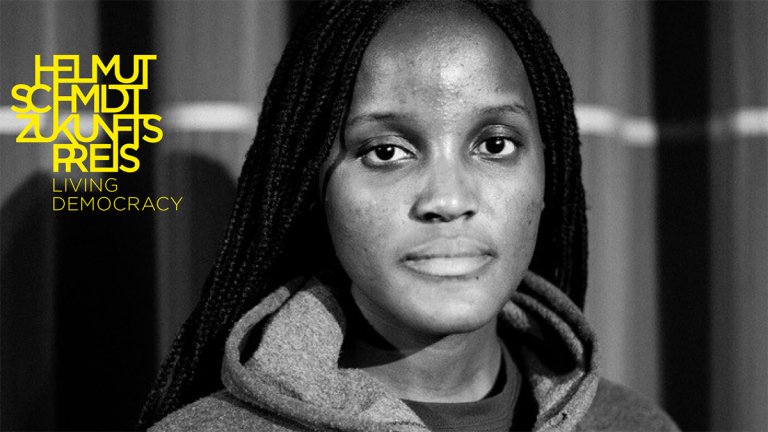 Press
Vanessa Nakate receives the Helmut-Schmidt-Zukunftspreis 2022.
We are very happy to announce that Vanessa Nakate will receive the 2022 Helmut-Schmidt-Zukunftspreis.
For real change to happen, real people are necessary – to push for systemic change. There is a dynamic beyond the dichotomy of individual and structural level, and Vanessa Nakate is the perfect example for how change can happen and needs to happen. It is personal.
Nakate took up the initiative of Greta Thunberg, starting her own climate protests under the banner of Fridays for Future in her home country of Uganda – and became the voice of her generation, of a whole continent, least responsible for climate breakdown and most affected.
The newly established prize is dedicated to innovation in democracy, society, technology and is awarded by Helmut-Schmidt-Stiftung, Die Zeit and The New Institute. It will be presented to Vanessa Nakate in Hamburg on June 28 at the Elbphilharmonie.
The jury consisted of Francesca Bria (Italian Innovation Fund and Project Lead at THE NEW INSTITUTE), Carsten Brosda (Culture Senator of Hamburg), Christoph Gottschalk (THE NEW INSTITUTE), Uwe Jean Heuser (Die Zeit), Max Hollein (Metropolitan Museum of Art), Nina-Kathrin Wienkoop (Bundeskanzler-Helmut-Schmidt-Stiftung) and Daniel Ziblatt (Eaton-Professor at Harvard and Fellow at tHE NEW INSTITUTE).
Outstanding individuals are important to foster the imagination of all of us.