01 Terra0 on Economies Beyond the Human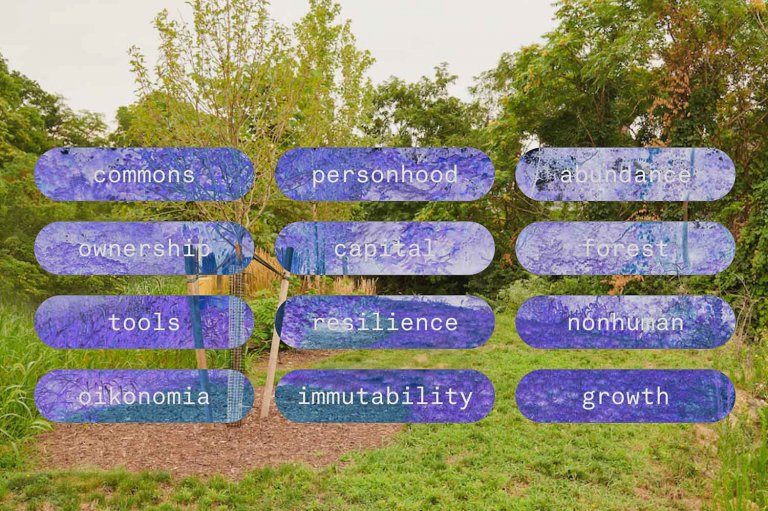 podcast
01 Terra0 on Economies Beyond the Human
Terra0 uses artistic narratives to propose post-human economies. As they put it: "On the blockchain, no one knows you're a tree."
Listen on Spotify, Apple Podcast, or where ever you get your podcast.


Terra0 launched with a proposition: To use blockchain to create a self-owning forest. More broadly, they wondered if this technology could be used to transform nonhuman entities into actors in an economic network. Since the publication of their whitepaper in 2016, the Berlin-based artist collective has tested these ideas by making works where capital is gained and administered in novel ways – like tokenizing flowers on a DIY marketplace and giving a crypto wallet to a bonsai tree.
Paul Kolling and Paul Seidler, two founding members of terrra0, join Simon to talk about a number of their art projects, which use blockchain's transparent, distributed tools towards goals beyond simply moving capital. Across these works and across the conversation, they highlight the role of artistic narratives in supporting ambitious ideas – from enacting more "sane" ways of administering property to redefining personhood for our ecologically-entangled present.
They also get into the weeds about how to create a forest-cyborg with sensors and smart contracts, debate how to exhibit code-based art beyond throwing it on a screen at an art fair booth, and reach towards a more expansive definition of who (and what) "counts." Each of these topics are underpinned by an impulse to critically re-evaluate the stories we've been told about nature's separation from culture. Terra0's motivation, it becomes clear, is nothing short of redefining identity. As they put it: "On the blockchain, no one knows you're a tree."
Seed Phrase is a project by Simon Denny for THE NEW INSTITUTE. This conversation was recorded in Berlin at Studio Jot, edited in Hamburg by fx:one, and made possible by Georg Diez, Lieke Fröberg, and Alice Gustson and The New Institute, with research and additional support by Adina Glickstein. The music for this podcast is by Amnesia Scanner, from their Web3 project SCAMMER, which was released as a series of NFTs.