About
What is to be human or to become human? What is a human individual, a collective, a social formation or even a whole "culture"? What binds our various social and natural identities together into a single life-form which realizes its potential in different shapes at different times and places? How can we synthesize the self-knowledge of the human life-form into a coherent conception of who we are and who we ought to be? And how can we create a sustainable value-system for the 21st century?
In our era of multiple, nested crises, humanity is facing a series of existential challenges. These crises are not merely real threats and dangers to human well-being, flourishing and survival. They touch the core of human being and co-becoming on our planet and in our highly connected societies. In light of this, our foundational program tackles the problem of how to think of the human condition in the 21st century in order to transcend harmful forms of dualism, binaries, and contradictions.
Our goal is to re-couple human co-becoming and nature; individual and social freedom; moral and economic value; quantitative and qualitative growth; humans and animals; human nature and technology. In order to achieve a better understanding of how we both fit and do not neatly fit into nature as an environment we share with other life-forms, our foundational program investigates the social, historical, and natural complexity within which we are embedded. Thus, the human condition program asks the existential life-and-death-questions in order to explore the possibility of transforming humanistic, philosophical, and social-scientific insight into our vulnerable condition into actionable projects in tandem with our other two programs.
Art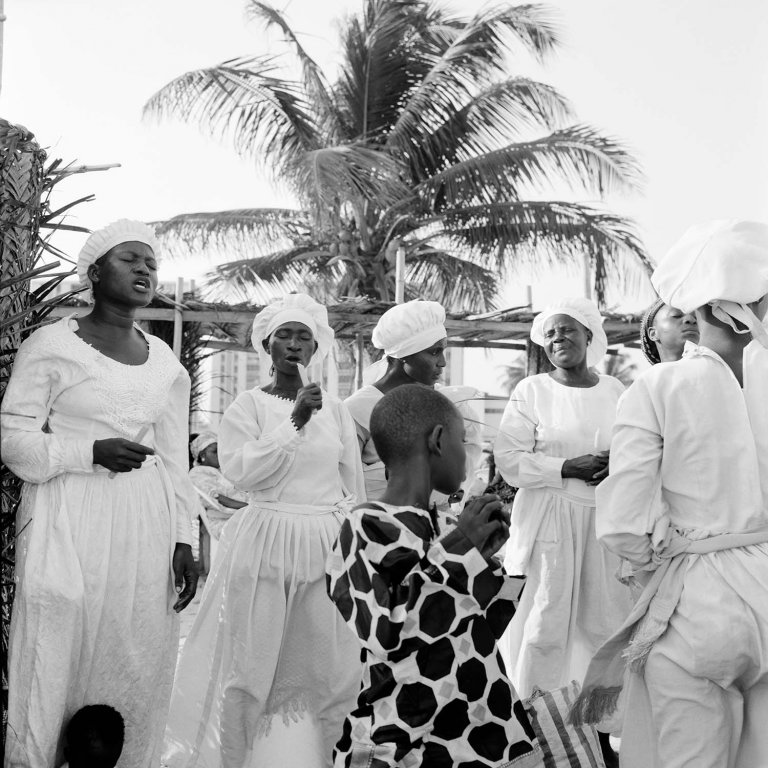 Art
Akinbode Akinbiyi, Bar Beach, Victoria Island, Lagos, 2006. From the series Sea Never Dry. Courtesy of the artist.
In the ongoing series "Sea Never Dry," Akinbode Akinbiyi documents sacred ceremonies, communal gatherings and environmental degradation in the coastal zones of Europe and West Africa. The photographs featured in this edition are situated at Bar Beach on the shoreline of Lagos. Meditative and festive at once, his images capture intimate, seemingly timeless moments where the sacred and the profane are no longer separate.
Curatorial Note
2023/24
Governing the Planetary Commons

How are the planetary commons to be governed in an ecologically responsible, just, democratic, and resilient way?
The program "Governing the Planetary Commons: a Focus on the Amazon" examines how to responsibly and sustainably govern crucial Earth systems, using the Amazon Rainforest as an example, and explores different governance models that could work in an ecologically sound, democratic, and resilient way.

Depolarizing Public Debates

How can we depolarize public debates on socio-ecological transformations?
The aim of the program "Depolarizing Public Debates" is to develop tools for reducing polarization in public discussions about socio-ecological issues, engaging with practitioners from journalism, digital platforms, and civil society.

Conceptions of Human Flourishing

How does a non-materialist conception of human flourishing inform the reformulation of the SDGs in 2030?
The program "Conceptions of Human Flourishing" explores how different cultures conceive of human flourishing, how the current materialist approach may limit it, and how to redesign the SDGs with a broader, more inclusive view of what human flourishing means.
2021/22
The Future of Democracy

How can we transition to an ecologically responsible and democratically resilient future?
The program "The Future of Democracy" places its main focus on the prospects for comprehensive ecological democratization. The guiding rationale is that social transformations require a collective imaginary of a future worth striving for.

Socio-Economic Transformation

How can the economy serve social well-being within planetary boundaries?
Our economy must serve our social needs and respect planetary boundaries. But this is currently not the case: we are on an unsustainable path. Our economic activities have contributed to societies growing more unequal across various dimensions, depriving some of meeting their basic human needs and putting political systems under stress.

The New Hanse Project

How can cities use data to become more democratic and sustainable?
The program "The New Hanse" investigates the relationship between urban digital infrastructures, data justice, and sustainability, supporting the city of Hamburg's transformation towards climate neutrality with tangible data-driven pilot projects.