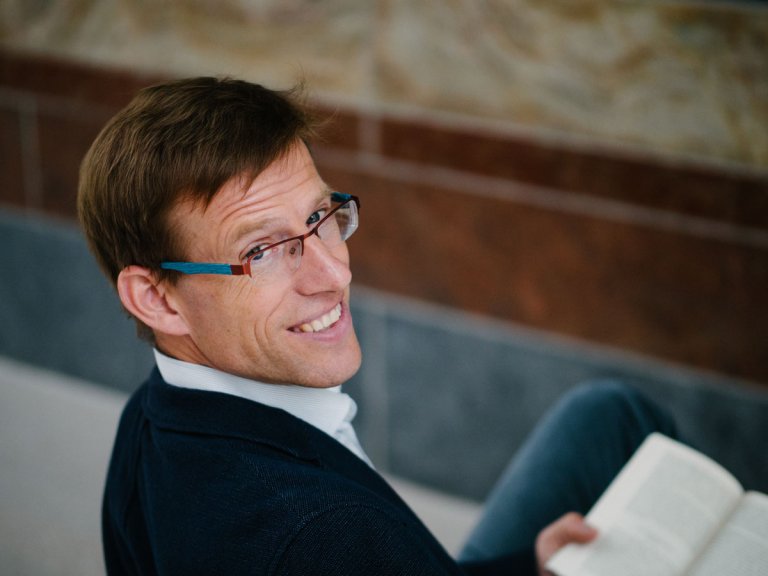 FELLOWS

/
---
College of Arts and Sciences Bloomington, Indiana University
BIO
Fritz is a professor of Cognitive Science and Germanic Studies at Indiana University, where he was one of the youngest recipients of the permanent title, Provost Professor in 2017. In 1997, he gained his Ph.D. in German literature from John Hopkins University. In the past, Fritz was a Fulbright Fellow and an Alexander-von-Humboldt-Fellow. Additionally, he has been a regular visiting professor at St. Gallen University for close to a decade.
At Indiana University, Fritz is building up a track of courses in cognitive arts and humanities and runs the unique Experimental Humanities Lab, whose goal is to bridge the gap between the sciences and the humanities. Since 2009, his books have been published at Suhrkamp Verlag. Fritz's most recent book, The Narrative Brain, won several awards, including "Wissenschaftsbuch des Jahres" 2023 in Austria. His research areas include German and European culture, cognitive arts and humanities, as well as the history of psychology.
At THE NEW INSTITUTE, Fritz is involved in the program Depolarizing Public Debates. He will be present in December 2023 and return for the spring term in 2024.
QUESTIONS
What gives you hope?
Young people. Curiosity. All arts. The natural world. People who want something and who are not satisfied with the status quo. Actually, a lot of things.

How does change happen?
Most change happens in very subtle ways and we only notice it much later. Retrospectively, we can tell the story of the change, but then the change has already happened in the past. Still, we as humans can also instigate change. Usually, we are caught up in how things are now and can only think in ways that are part of the now and can repeat the now. However, once in a while we can jump out of the frame of our present references, take a risk that we do not understand, and leave things behind in a leap. In that way, we can be the cause of change.

If you could have a conversation with one person (dead or alive) who would it be?
The question asks for a name, but let me first ponder on the first part of the phrase "have a conversation with". This is the hard part. I have had opportunities to talk to many people whom I admire and who deeply fascinate me. Some are famous artists, philosophers, politicians, Nobel Prize winners and people who have done amazing humanitarian work or endured incredible hardships. But have I had a deep conversation with them, the one I dreamed about before? Rarely. So my real wish is for a conversation of the things that matter to each person deeply. And this is the kind of conversation where it does not matter any longer who the other person is. The person next to me on the train, the mother of a friend, or a fellow intellectual. Still, if a name is needed, it is my father who died when I was ten.