The Future of Democracy
How can we transition to an ecologically responsible and democratically resilient future?
The Future of Democracy
How can we transition to an ecologically responsible and democratically resilient future?
Status

Call for Program Chairs and Fellows open
About
The program "The Future of Democracy" places its main focus on the prospects for comprehensive ecological democratization. The guiding rationale is that social transformations require a collective imaginary of a future worth striving for. It provides a resource for meaning that supports the inclination to generate volition. Such imaginaries also allow for the short and medium term acceptance of adverse conditions that are to be expected and also already noticeable with respect to the natural and socio-political effects of climate change. And they provide guidance for constructive propositions for institutional design that contemporary democracies require in order to re-integrate citizens and nature. To be effective, concrete propositions must carefully consider extant structures, just as corresponding imaginaries cannot merely be 'invented' but must draw from potentials that societies already harbor. Considering the scale of innovation required, this implies taking a broad view of what democracy comprises and, thus, what the resources for its future could be.
Conducive schemas for democracy's overhaul may also germinate in practices distant from its institutional core – progressive social movements, the arts, and experimental practices can spur the democratic innovation. Taking a broad view also means considering which practices and structures still require democratization. Especially, the intertwinement of liberal democracy with the global economy calls for the reinvigoration of economic democracy. For instance, cooperative enterprises and the council republican tradition provide useful cues to further develop contemporary participatory democratic forms, such as lottocratic citizen councils. Such democratic innovations must also take humanity's dependency relation on nature into account. The human species and the cultures that it has generated cannot be conceived as dichotomous to nature. Existing knowledge systems that feature non-hegemonic, alternative conceptions of the nature-human-culture trichotomy are of special interest here. They hold reconciliatory resources for aligning the political form with a responsible mode of co-habitation on this planet and achieving ecological, resilient democracy.
QUESTIONS
Experimental Democracy

Which practices of progressive social movements could be taken to prefigure a promising democratic future? How can the democratic process incorporate a sensorium for experiential qualia to enter political reality and foster the potential for innovation? Can experimental formats, such as playful participation and the openness they induce, become institutionalized as problem-solving mechanisms? Or is the emancipatory potential of experimental practices better unleashed in extra-institutional domains of democratic resistance?

Participatory and Economic Democracy

Which conceptual resources do the neglected history of worker cooperatives and their federalist visions provide for the democratization of the economic sphere? How could their radical democratic mechanisms of enhanced participation be innovatively combined with representation in the political context? Could such configurations also provide a bridge for developing participatory democratic forms, such as lottocratic citizen councils, beyond consultative functions? Could these, in turn, become vehicles for institutional design, introducing democratic reflexivity to constitutions along the axis of time and making them responsive to a rapidly changing world?

Ecological Democracy

Which political means are legitimate to transition to a post-carbon society for democracy to survive? Is decarbonization sufficient to reconcile humankind with the complex political ecology of which it forms part? How must our conception of democracy change as we become increasingly aware of our embedding in complex relations with non-human entities that are no less affected by our political decisions? Which non-hegemonic existing knowledge systems can help us rethink these relations to foster mutual emancipation from alienation?
Art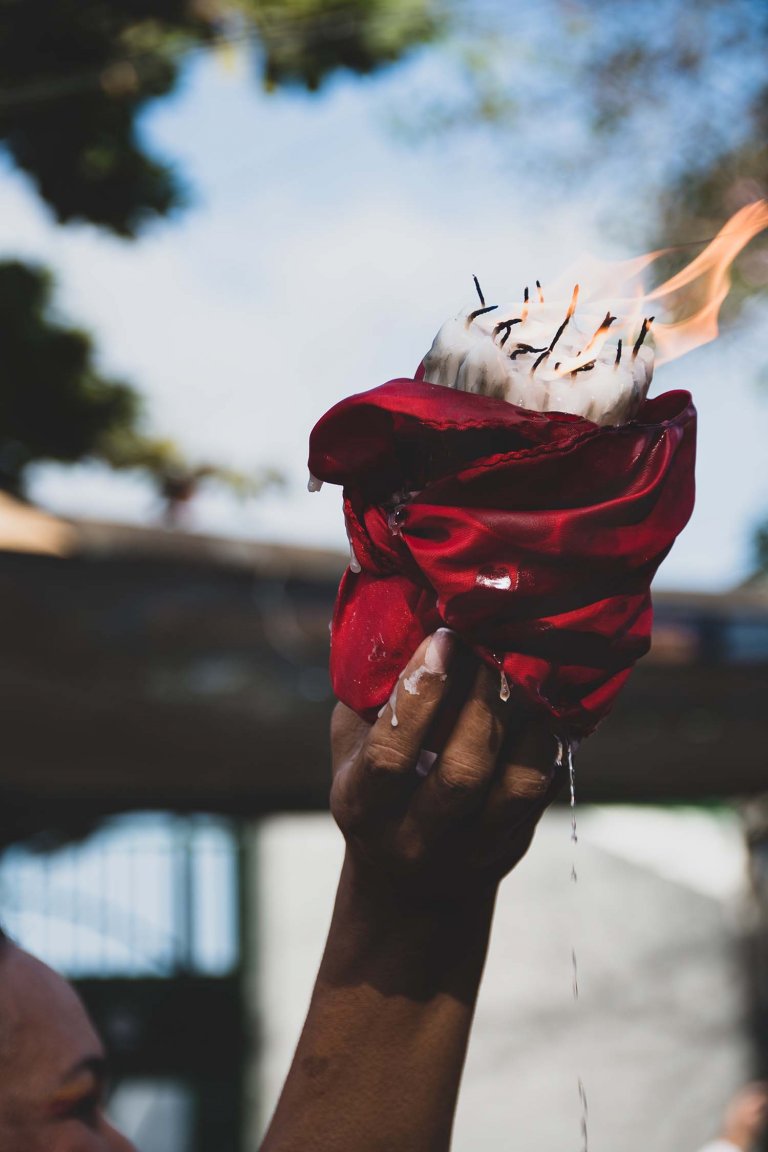 Art
Raisa Galofre, El fuego vivo de la cumbia vive en nosotros (The vivid fire of Cumbia lives within us), from the series Daughters of the Muntu: A Pluriverse, 2015 – ongoing. Courtesy of the artist.
A candle melts in the hand of a woman during a procession, somewhere in the Colombian Caribbean region: The photographic series by Raisa Galofre Daughters of the Muntu offers a glimpse into the presence and stories of Muntu Americanas. This series presents a visual translation of these stories as constellations of interrelated beings. It is inspired by the storytelling by Manuel Zapata Olivella in his novel Changó, el Gran Putas and its foundations in the Muntu concept and Ubuntu worldview. Ubuntu, a Nguni Bantu term meaning "humanity", is sometimes translated as "I am because we are" (also "I am because you are"), or "humanity towards others" (in Zulu, umuntu ngumuntu ngabantu). In Xhosa, the latter term is used, but is often meant in a more philosophical sense to mean "the belief in a universal bond of sharing that connects all humanity".
Curatorial Note
The Human Condition in the 21st Century

How can we create a sustainable value-system for the 21st century?

The foundational program tackles the problem of how to think of the human condition in the 21st century.

Read More

The Future of Democracy

How can we transition to an ecologically responsible and democratically resilient future?

The program "The Future of Democracy" places its main focus on the prospects for comprehensive ecological democratization. The guiding rationale is that social transformations require a collective imaginary of a future worth striving for.

Read More

Socio-Economic Transformation

How can the economy serve social well-being within planetary boundaries?

Our economy must serve our social needs and respect planetary boundaries. But this is currently not the case: we are on an unsustainable path. Our economic activities have contributed to societies growing more unequal across various dimensions, depriving some of meeting their basic human needs and putting political systems under stress.

Read More